Product Notes
Supports Healthy Immune System
Supports Recovery Time and Acute Inflammation Associated with Exercise
Supports Joint Health
[social_warfare]
Young Living
Sulfurzyme Capsules
Retail: $77.96 USD
Wholesale: $59.25 USD
Stock Number: #3243
Sulfurzyme Capsules
Sulfurzyme® combines wolfberry with MSM, a naturally occurring organic form of dietary sulfur needed by our bodies every day to maintain the structure of proteins, protect cells and cell membranes, replenish the connections between cells, and preserve the molecular framework of connective tissue.* MSM also supports the immune system, the liver, circulation, and proper intestinal function and works to scavenge free radicals.* Wolfberries contain minerals and coenzymes that support the assimilation and metabolism of sulfur.
How to Use
Take 2 capsules two times daily or as needed one hour before or after meals.
Keep in a cool dry place. Do not expose to excessive heat or direct sunlight.
Ingredients
Click the image below to enlarge.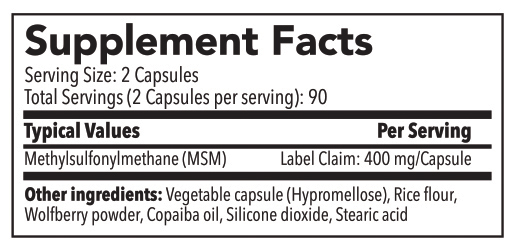 Young Living April Promotion!
Cautions & Disclaimer
*These statements have not been evaluated by the Food and Drug Administration. Young Living products are not intended to diagnose, treat, cure, or prevent any disease.

*Keep out of reach of children. If pregnant, nursing, taking medication, or have a medical condition, consult a healthcare practitioner prior to use.

*Modern scientific research has not yet validated these traditional claims.
Ask Me Anything!
If you have questions about essential oils or healthier living, I'm available! Simply use the form below and I'll be in touch as soon as possible.
YL #1898095